ConvertX integrates a live Preview.
Titleset listing + menu info and customization are shown in the left hand side window, called the
Treeview
, while the video player and main editing options are shown in the right hand side
Preview
window.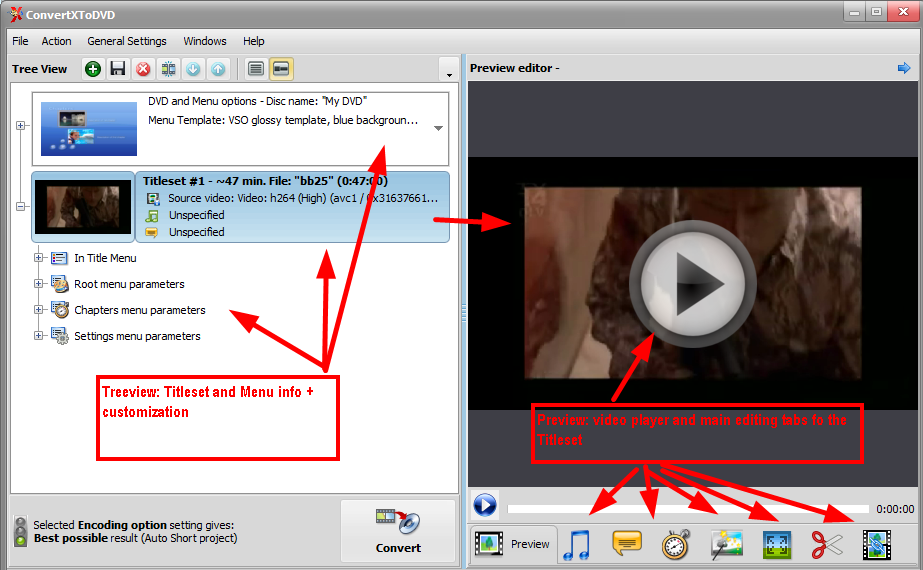 The preview window has a video player in the upper part, where you can play scroll back and forth into the video, and where any changes made with the tabs below will be shown live.
The tabs offer the main video editing options:
Audio
,
Subtitles
,
Chapters
,
Brightness/ contrast and rotation
,
Video format/size
,
Cut
and
Merge
.

The preview screen is especially helpful for editing subtitles, adding brightness/contrast because any changes are shown live, and for the Cut option, enabling an exact selection of area(s) to remove.
Plese check out each section for more info.
Interface Customization
The look of the software can be customized by displaying or removing the preview on the right and log window at the bottom.
(The log file is information notes about your conversions). The most recent conversion is found at the top of the file.  In case of problems, this information is first needed together with a good description of your problem. Both the description and log file information can be posted on the VSO forum. In case of a technical issue, you do not need to copy and paste the log file, it is sent to the support team automatically when using the
technical support form
.
Note:
All log files are automatically saved by the software. I.E. you do not need to do a new conversion to create and save a log file. All conversions are recorded, saved, and stored for you by the software.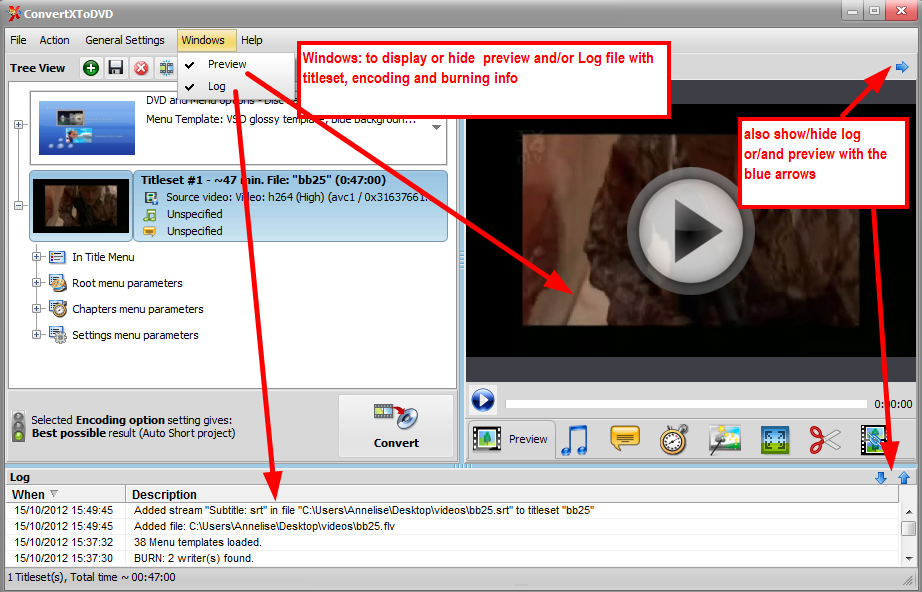 You can also change the
background color
of the software: go to " General Settings" "General" and at the bottom of this window select your preferred color in "theme" (color top menu in the application, borders, and buttons).
Go to Audio streams tab
Go back to Main guide