Settings - Click on the section that interests you or scroll down to read each section.
Language
– select the language in which you want the application to be displayed in.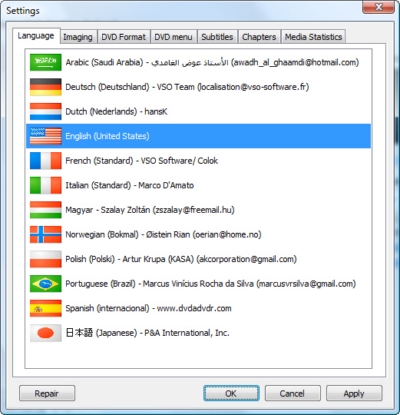 Imaging
Quality
You can set different image filters to resize the images used at different times and different processes in PhotoDVD. It is recommended to leave these settings as is. The filters will not have an effect on the slideshow besides the quality of the pictures and how fast the project is compiled. Here is a brief description of each filter. For a longer explanation on what an image filter isplease check out this forum post.

fast box = ultra fast
fast linear = good quality but not as good as linear, compromise for speed
linear = good quality (current default)
Lanczos = best quality
Cubic or other = alternative best quality (more tests need to be done to evaluate differences, let us know your opinion)

Properties
Cutting is a cropping of your pictures, taking away the edges of your pictures. This is particularly noticeable at the first appearance of your pictures on the TV Screen during the slideshow. As animation continues this is less noticeable. (If you already take well balanced pictures or is you take primarily close up it would be a good idea to leave the cutting option at 0%.

Amplitude is a sweeping motion from left to right or vice versa of the picture. Moving the curser to the right will elaborate this movement in the slideshow. If would be possible to select this at 100% only a tiny portion of the "beginning" of a picture would appear at first and as animation continues the rest of the picture will start to appear as the part of the picture that was first shown will start to disappear until you come to the complete other end of the picture.

Zoom Factor is a sensation of the moving into the picture for a view closer up. Moving cursor the right will increase this sensation.
Timing
If you have set specific settings for the image display time or transition time in the additional editing window, your custom values will not be overwritten. Only photos with default settings will be modified with these new global setting values.

Display each image for _s____ms (milliseconds) allows you to adjust the time for pictures to be displayed. Do remember that if you want one picture to be displayed for a longer period than another go into "Additional Editing" by clicking on the icon in the shape of a penci.

Transition is the time in seconds of transition between pictures (they melt into one another or kind of superimpose each other). This process can either be a very quick on or done very slowly, you are in control.

Repair -
will bring back cursors to original (default) place.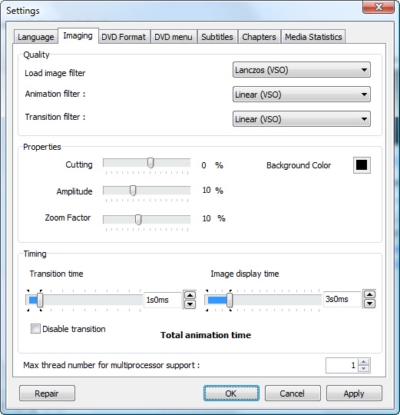 DVD Format
- allows you to select the final formatting of your DVD (PAL or NTSC and wide screen or full screen). The PAL or NTSC selection should be done according to the region you live in. For more information about what setting to set for your region check
Wikipedia
.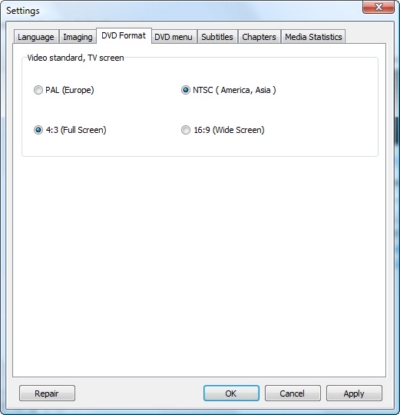 –
PhotoDVD will automatically create a DVD menu. If you do not want a menu you can select the menu template "No Menu". If you create chapter points in your slideshow l or use the automatic setting for creating chapters you will have a sub menu called "Chapters". If you add comments as subtitles for your picture or add a music playlist you will have a sub menu called "Settings" also accessible from the main menu allowing you to activate or not these features. Here is an example of the Main menu (the top half of the screen will show the first image of your slideshow):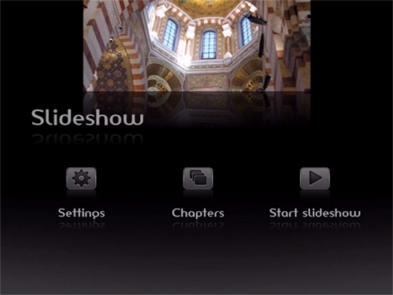 Here is an example of the Chapters menu: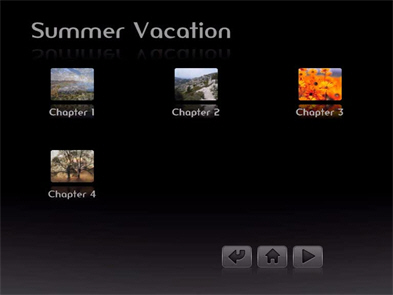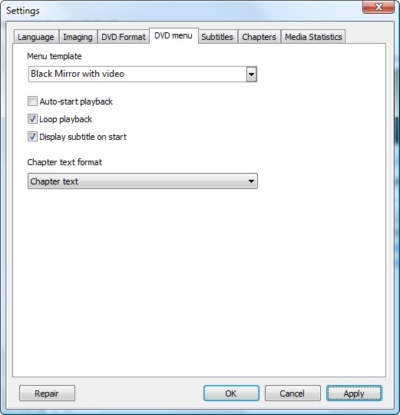 Menu templates
Here are examples of the different menu templates available (the image in the menu is from the 1st pictures of your slideshow):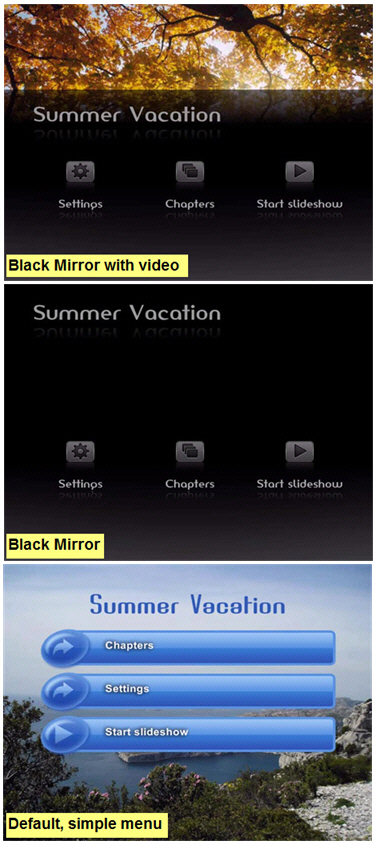 DVD Settings
Auto-start playback: makes your slideshow play immediately when inserted into your DVD player.

Loop playback: plays your slideshow in a loop cycle, when the end of the slideshow finishes
playing, the slideshow starts playing automatically from the beginning again.

Display subtitle on start: will activate the display of a subtitle channel if you have written comments
to your photos in the additional editing window. Even if you did not add subtitles you may see the filename appear on the screen as it is also considered as a subtitle channel. Subtitles / comments can be activated or de-activated via the Settings menu of your DVD or by pressing the "subtitle" button of your remote control.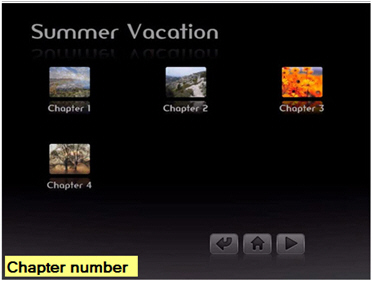 Chapter text format
Chapter text format allows you to choose 1 of 4 ways to label the thumbnails in your chapter menu.

Chapter Text: Once you have defined your chapter points, by right clicking on the same photo you can define your Chapter Text which will be used as the title of the chapter thumbnail in the DVD menu: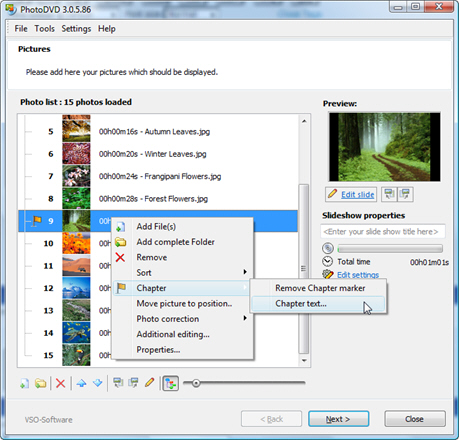 Type in the text and press ok.



Looks like:




Photo Comments: By double clicking on your photos you have added to your project you access the Edit Slide window. Here you can add comments to your photo slideshow as subtitles. On the final DVD you can activate your comments via the Settings Menu or by pressing the subtitle button on your DVD players remote control. If you select Photo Comments under Chapter text format, the title of your chapters in the menu will be the subtitle comments you wrote for that picture.


Looks like: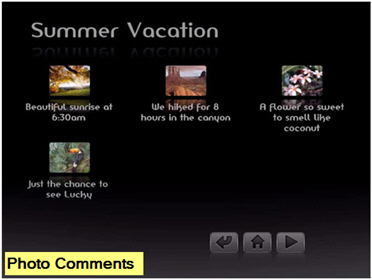 Time in slideshow: Will display the time in which this particular slide will appear in the slideshow as the title of the chapter thumbnail in the DVD menu. You can see each time for each chapter point in the the photo list:



Looks like: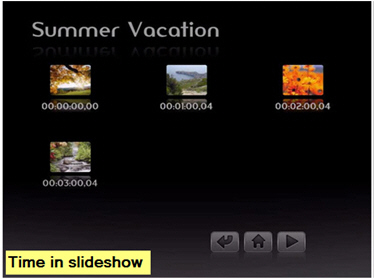 Chapter number: Will display the chapter number as the title of the chapter thumbnail in the DVD Menu, i.e. Chapter 1, Chapter 2, Chapter 3, etc.
Looks like:

Subtitles - Checking "Add comments feature by subtitles" activates the comments written in the Edit Slide window under each photo. These comments will work like subtitles on a commercial DVD. You can actually type up to 3 different "types" of subtitles/comments for your pictures. I.E. for track 1 you could write comments that descibe the date and place the photos where taken, and track 2 could be comments about what was happening in the photos. Some users write the tracks in different languages: Track 1 in english, Track 2 in spanish, etc. Subtitle tracks can be are activated or not when watching your DVD. To activate the subtitles go into the settings of your DVD menu or press the button "Subtitles" on your DVD players remote control.

<Enter your subtitle track 1 title here> allows you to name your subtitle Track. You will find this name in your Settings Menu. If you wrote the first subtitle track in Spanish you might want to name is "English", and "Spanish" for the second Track fi that was the case. You can also change the font, color, and size of your subtitles by using the drop down box or clicking on the

icon.

The drop down Language setting allows you to define what language this track is in. Actually when navigating through different subtitle tracks pressing the "subtitle" button on your DVD player's remote control on the screen you will see the abbreviation text of the language of your subtitle stream. So you can define that here. Standard DVD players work this way, but for PhotoDVD as you might use the tracks for something other than different languages try to think of different definitions for your Language abbreviation. Example: da for date.

Add a subtitle channel from filename: will create a 4th subtitle track, and it will use the name of your orignal file. In Photo list, in the first step of PhotoDVD, you will see the filename. Here in this example you will see it in yellow.





Remove extention from filename: will remove the extension from the filename for your subtitle channel/Track. For example in the case above it will use only "PB060024" and removing the ".JPEG" from the name.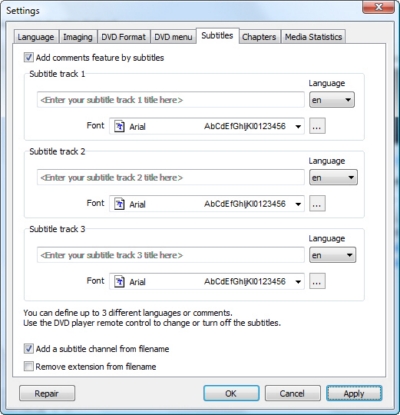 Chapters – If "automatic chapters" is checked this will set a chapter point at every xx minutes and xx seconds (02m00s). If it is not checked you can still add chapters manually by right clicking on your photos and selecting "Chapter" | "add Chapter marker". If you have already added automatic chapters you can still add custom/manual chapters. You can also change the time at which you want your automatic chapters to be placed and this will not change your manual chapters (which are not attached to a time, but to a photo). Automatic chapters are not saved as a setting when saving a project.
Automatic Chapter markers are a grey color


Manual chapter markers are an orange color




Media Statistics - Gives you the option to choose whether or not you give VSO Software permission to collect your burning information. NOTE: We do not collect any information that may help to identify a given computer or person!