FOR IMMEDIATE RELEASE – 1st of July 2009

VSO Software announces the release of PhotoDVD 3, a major new version of its award-winning DVD slideshow software.

TOULOUSE, France (July 1st, 2009) – DVD Photo slideshows are now widely used to share pictures in an original way. But creating a slideshow can be a heavy and confusing process if one doesn't use the right tool.
"Our aim was to create a simple, no-fuss application, combining at the same time the support of specialized formats to suit advanced photographers" explains Fabrice Meuwissen, Executive manager of VSO Software.
With a new design, playlist management, menu and chapter creation PhotoDVD 3 now offers all the options required to make a professional-looking slideshow:
- A wizard-style interface to guide user through the steps of slideshow creation
- Photo enhancement tools
- Transitions, panning and zooming effects, Hotpoint...
- 3 channels of text and music to create different atmospheres
- Quick burning to DVD
- A live preview to see slideshow during creation
The software creates a DVD-like video of your pictures and music, with a menu complete with chapters, audio and subtitles selection.
With PhotoDVD anyone can turn into the director of its own movie of memories! Wedding, Birthday, Holidays, Tribute, Business presentation, Real Estate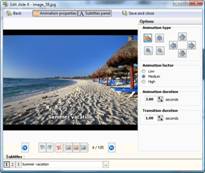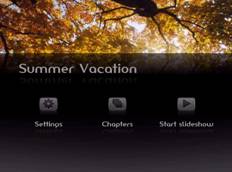 Screenshot of DVD menu Software screen Sample
About the company

VSO Software is an innovative software editor located in the south of France (Toulouse). Famous for its burning applications, VSO Software is now focusing on the photography market, dedicated to producing high quality software with user friendly interfaces, such as VSO Image Resizer, PhotoOnWeb, PhotoDVD 3…
Key Features
Support picture formats and digital cameras: JPG, PNG, TIF,GIF, BMP, ANI, PCX, EMF, WMF, and more...
Support native RAW formats : Canon RAW .CR2, Nikon .NEF, .DNG, Minolta, etc
Supported audio formats for background music: MP3, WMA, OGG, MPC, WAV, APE, FLAC
Awesome automatic pan and zoom effects
Fullscreen (4:3) and Widescreen (16:9) output
DVD output on DVD-R/RW and DVD+R/RW media (Single or Double Layer)
Specify a focus point for each picture (highlighted by zoom techniques)
Picture editing (rotation, black and white, sepia, etc.)
Add your comments as subtitles tracks (3 tracks available)
Add audio playlists for different background music (3 tracks available)
Supports both PAL and NTSC formats
Fast and highgrade MPEG2 encoder
Burns automaticallyto DVD or hard drive
Fast preview module
Top filters for resizing (linear, lanczos, bicubic)
Advanced DVD-like menus with audio, chapter and subtitle selection
Optimized for Windows XP / Vista 32bits and 64bits/ Windows 7
Multilingual support, answer guaranteed within 24hours (48 hours on week ends)
System Requirements
Windows XP/ Vista / 7, a hard drive with at least 4,3 Go free space, a DVD burner, a graphic card compatible with DirectX 9
Available for immediate download in English, French, German, Spanish, Italian, etc…
on www.vso-software.fr

Contact
Press and webmasters are allowed to publish the trial version on their website and cover CDs

Annelise Vo Thanh
Email: press@vsosoftware.fr
Website: http://www.vso-software.fr
Phone : +33 (0)56 216 02 23
Fax : +33 (0)56 125 30 86
Awards and Testimonials